Start by clicking here and four minutes of your time will be well spent
New since World Environment Day June 5 2019
The whole idea of this project is 'encapsulated' in Dr Christopher Guillebaud's song The Promise (in the video to the left). It was originally written in 2014 for the 20th anniversary of the 'Eco Time Capsule' Project. This is a re-recorded version for the 25th anniversary. You can play the latest version here and click here for words.
(c) Chris Guillebaud


"We have not inherited the earth from our grandparents, we have borrowed it from our grandchildren" [Kashmiri proverb]
It is more than 25 years since the placement of the environment Time capsules in 1994 and everything we were worried about then is still a concern, only more so. We now only have one generation left for our dream, stated in the conclusion of both the 'main' Letters no. 1 and 2 (see here) to our grandchildren, to be made a reality: that the people of 2044 will dig up each of the Eco-timecapsules, in the UK or abroad, and wonder why we apologised!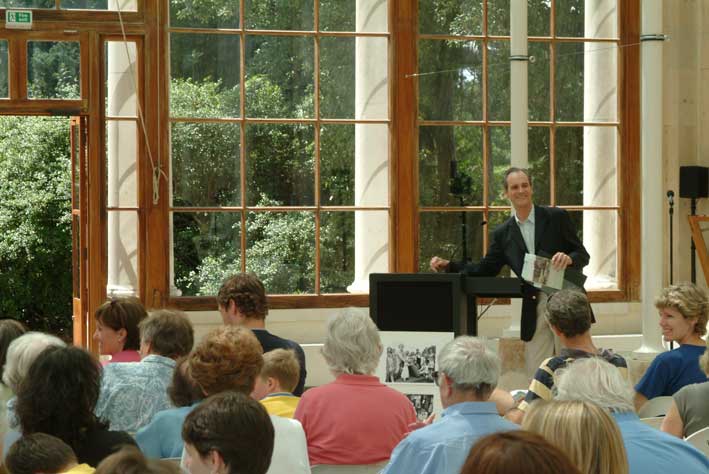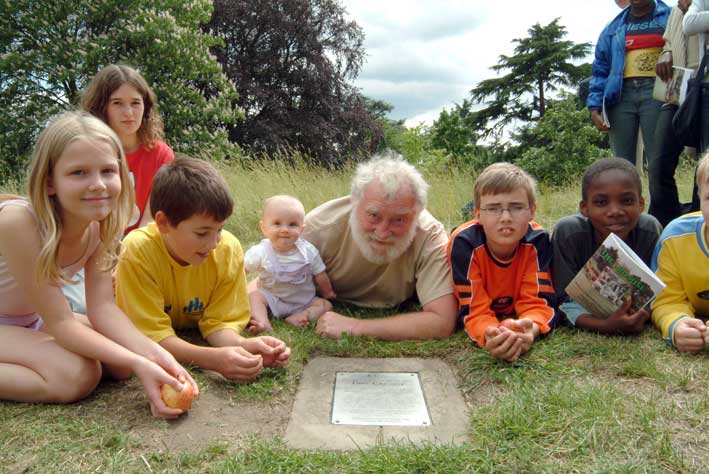 The environment time capsule project is an ongoing initiative of Professor John Guillebaud (physician and environmentalist), and is based on the saying above. Back in 1994, with the support of leading personalities, including:
Director of Kew Gardens, Professor Sir Ghillean Prance
Sir Crispin Tickell, former UN Ambassador, Environmental Author & Speaker
Susan Hampshire, Renowned Actress
Lady Medawar, Chair of Margaret Pyke Trust & Wife of Sir Peter, Nobel Laureate
The Lord Mayor of Kew & Richmond
Time capsules were placed underground in Kew Gardens and other leafy locations in botanic gardens around the world, to be opened on World Environment Day in June 2044, just 50 years (i.e. two generations) from the time they were originally buried. They contained environmentally-relevant objects of the day, both good and bad, with explanations attached.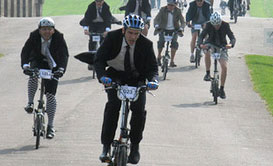 Image depicts the Brompton World Commuter Bicycle
Challenge race at Blenheim Palace, UK
What was the purpose of this project, and how will it contribute towards making the world an environmentally safer place for our descendants?
Follow the links and explore this site, especially The Promise which includes the best contributions from 1994 (pictures, letters, poems) by the children who will be around when the capsule is opened in 2044 (this date being chosen because it was two generations later, see the quote above).
Help us to make a decent, truly sustainable future a reality for our grandchildren - and for all the wild species in Nature that humankind so threatens....
Please consider downloading (to read at your leisure) The Eco-timecapsule - Population Matters - 2021. If you have a bit more time, listen to John's 14 minute podcast and view some highly relevant videos here. Medical and lay articles on the methods of contraception, population, family planning as a relevant intervention for the climate emergency and other environment issues are also available. For even more information and suggestions for action, regularly updated, visit the website of Population Matters, of which John is Patron - along with Sir David Attenborough, Professor Paul Ehrlich, Dame Jane Goodall, Professor James Lovelock, Sir Jonathon Porritt and other prominent environmentalists.